A question of numbers
In 2011 the Franciacorta Consortium became the first winemaking sector body to provide specific data gathered by its member producers via the Economic Observatory, a data surveying and statistical analysis system regarding Franciacorta sales and distribution in Italy and around the world.
The system covered 81.9% of member firms in December 2021 and is based on data gathered in anonymous form, giving its members access to ongoing statistical information on sales and marketing helping them to identify business strategies and compare company and sector-wide trends.
Access to Economic Observatory data is also a strategic asset where consortium investment allocation is concerned as well as helping the consortium develop targeted Franciacorta brand promotion strategies.
Franciacorta in figures
Sales volume — 2021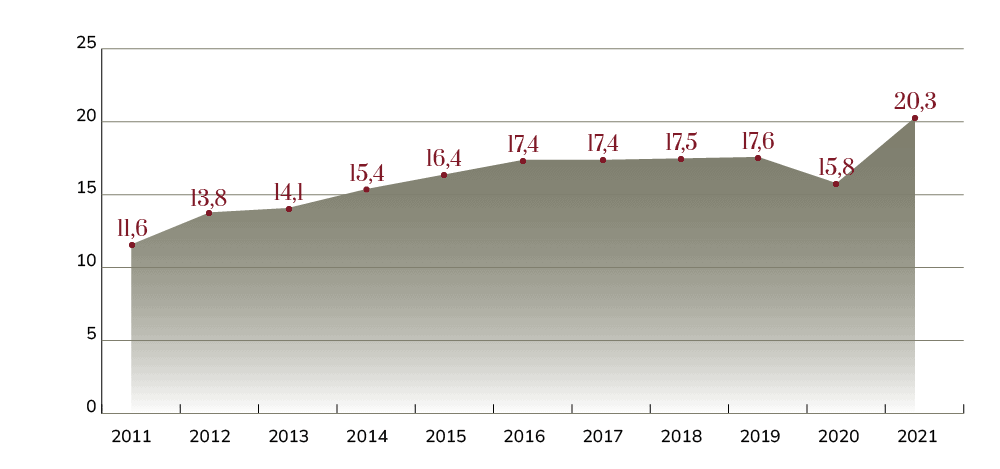 Sales volume Italy/Abroad — 2021
◉ Italia
◉ Estero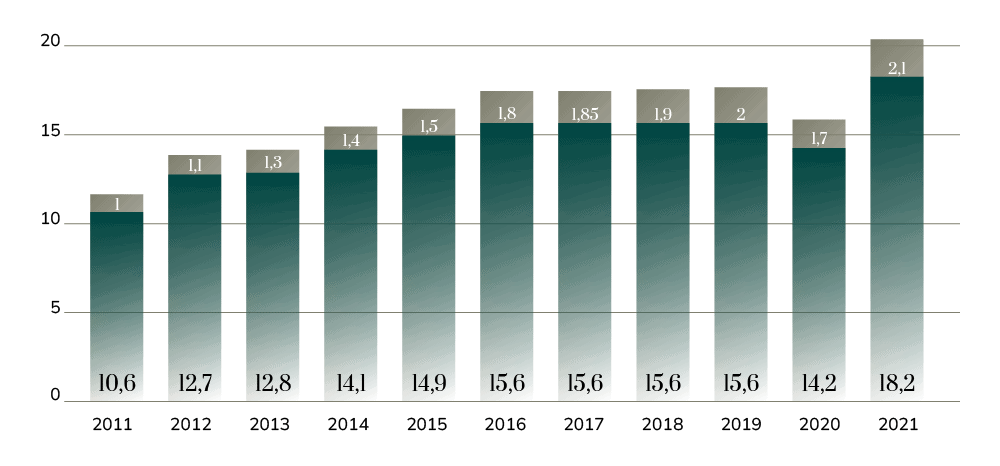 Exports — 2021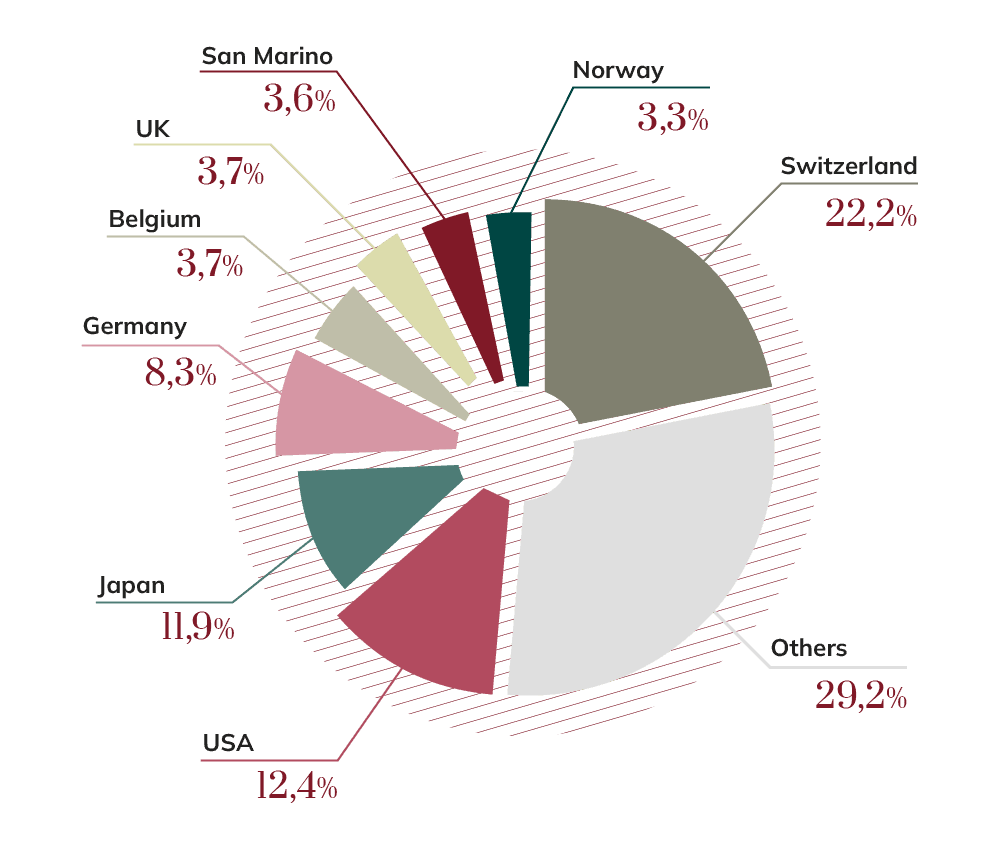 Sales volume by type — 2021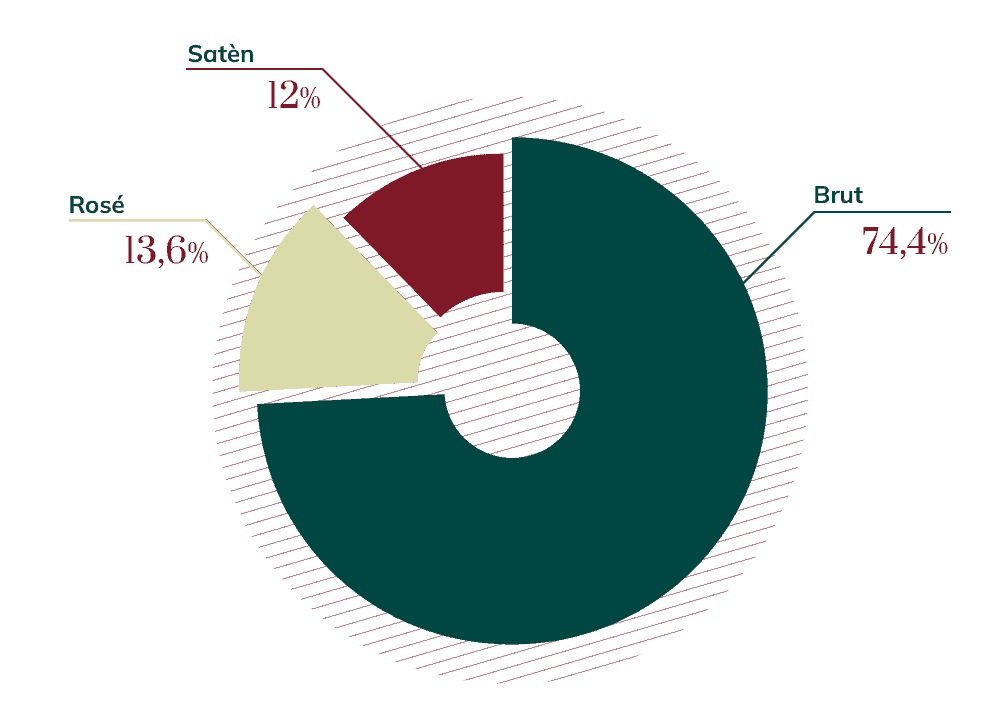 Data analysis 2021
[Period of reference: January – December 2021. Estimated percentage of firms covered on 30/12/2021 81.9%]
Methodological note:
The data contained in this document is an estimate of the total wineries belonging to the Consortium. This figure was calculated on the basis of the data supplied by the firms taking part in the economic observatory. Taking this sample as representative, coverage of participating firms is calculated every year (for example, 81.9% for 2021) and all relating data is thus taken proportionally to 100%.
For this reason the data shown in this comment differs from that in the report tables, with the latter containing real (not estimated) data drawn from data sent in on a monthly basis by firms.
Some of the data shown in this document may differ slightly from figures supplied in the past as minor additions or amendments may be made over time.
2020 summary
The economic observatory data for the end of 2020 showed the significant effects of the pandemic on Franciacorta sales in Italy and abroad from March onwards.
After a positive first quarter, sales plummeted by as much as 80% in March, with the first lockdown, and then recovered in the summer before a further downturn in the last quarter.
Thanks to the important contribution of the large-scale retail sector in December, 2020 ended with a relatively small drop in total sales volumes.
2021
The first two months of 2021, with restrictions having a significant impact on the HoReCa sector, could only be negative if compared to the same period of 2020, prior to the pandemic.
March 2021, on the other hand, was the beginning of a quarter which showed significant growth rates if compared to the corresponding quarter of 2020, when total lockdown saw sales plummeting.
April and May 2021, in particular, were more than 200% up on the same period of 2020.
With less striking growth rates, sales in the second quarter of 2021 were also well up on figures from the same period in 2020. December was the exception, showing a downturn as compared to the same period of 2020, due primarily to lower product stocks by wineries and also the fact that December 2020 volumes were especially positive as compared to 2019.
Taken as a whole, 2021 saw an estimated growth in sales volumes by all wineries of 28.3% over the same period of 2020.
Clearly growth rates over 2020 alone provide only a partial picture of market trends, given the exceptional nature of the year in question.
A more thoroughgoing analysis of trends thus requires an analysis of variations on 2019, a year in which no external factors impacted on sales.
In fact, 2021 figures showed an upward trend as compared to 2019, too, with a growth rate of 15.5%.
In greater detail, the domestic market accounted for 89.7% of sales, in volume terms, a growth of 28.4% over 2020 and 16.8% over 2019. Exports accounted for the remaining 10.3%, a growth rate of 27.6% over 2020 and 5.3% over 2019.
The distribution of domestic sales by Nielsen area shows that the north-west of Italy accounted for around half of domestic turnover (47.4%) with the rest being divided up between the north-east, the centre and the south, with the first accounting for the largest share (21.7%) and the latter two 18.5% and 12.4% respectively. All areas of the country saw growth rates over 2020, ranging from 22.5% in the north-east to 46.7% in the south.
Lombardy was once again the number one region (36.2% of Italian sales), followed by Emilia Romagna (11.2%). Piedmont was at the bottom of the table with 8.8% of sales.
If exports are analysed, Switzerland came out on top in individual nation terms, accounting for 22.2% of total exports (+22.1% over 2020 e +28.5% over 2019). Next came the United States with 12.4% of total exports (+71.7% over 2020 and +8.4% over 2019).
Then there was Japan (11.9% of total exports), Germany (8.3% of total exports) and Belgium (5.4% of total exports).
Globally the average price of a bottle of wine of whatever type at the end of 2019 was €13.39, going down to €13.14 in 2020.
In 2021 this went up to €13.47.