Chef Mauro Zacchetti – Al Malò Cucina e Miscelazione
A Christmas recipe which goes perfectly with Franciacorta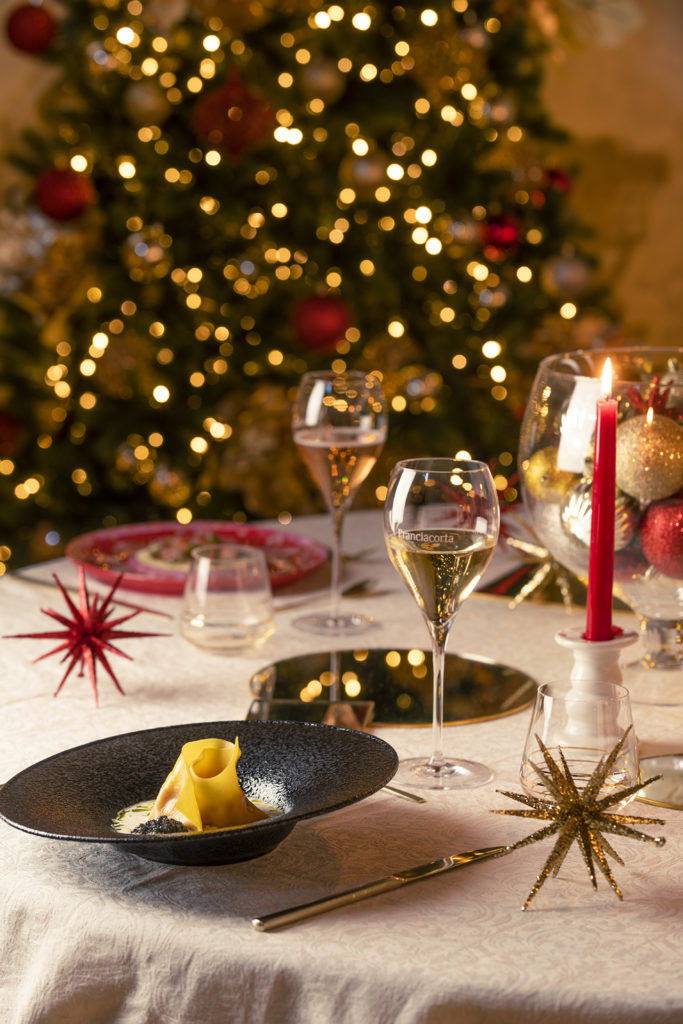 Ingredients
SERVES 4:
For the pasta:
500 g white 00 flour
1 whole egg
150 g egg yolk
5 g salt
For the filling:
1 approx. 2 kg Delica pumpkin
100 g Parmigiano Reggiano
Nutmeg
To finish off:
50 g shallots
250 ml Franciacorta
100 ml cream
30 g butter
50 g Beluga Calvisius caviar
Preparation
Remove the pumpkin rind and seeds, cut it up into pieces and wrap it in foil together with a clove of garlic and a sprig of rosemary. Bake for one hour at 150°C in a fan oven.
Remove the garlic and rosemary, pass it through a vegetable mill and leave to cool. Add salt, Parmigiano cheese and nutmeg. Put it in a sac à poche and place in the fridge.
Knead the pasta dough in the traditional way, wrap it in cling film and set aside for 30 minutes. Roll it out with a pasta roller to a thickness of 1 mm, cut it up into strips around 25 cm long, add the filling and close up into a rectangular ravioli shape.
Cook the shallots with the wine until half of it has evaporated, add the cream and the butter and leave it to thicken further. Filter, add salt if needed and divide up onto the plates.
Boil the pappardelle in plenty of salted water, fold it over onto itself and place on the sauce, dress with the caviar and serve.