"After 2020 where we saw a significant reduction in consumption outside the home and had tried to contain its impact, in 2021 we were able to achieve very positive results especially from the spring onwards, despite the fact that restrictions were still in place in several markets and the news was not always reassuring. The ability to curb negative effects and fully exploit the positive periods reassures us on the quality and strength of our denomination, and for the future as well".
These confident and proud words were spoken by Silvano Brescianini, President of the Franciacorta Consortium, who could not have hoped for a better start to the new year. A true "kick-off with fireworks", the kind that only the achievement of great goals can bring about: with a breakthrough 20 million bottles sold, Franciacorta has registered a sales record and ended 2021 in absolute expansion.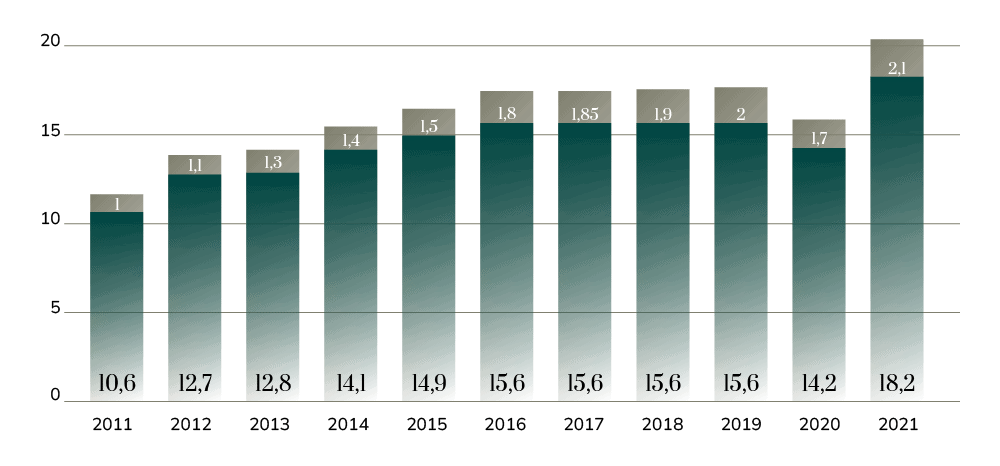 Positive results that inspire hope and optimism despite the uncertainty that marked the initial months of 2021, characterised by conditions of heavy restriction and impediment in the HoReCa channel. If March 2020 was the darkest period with the spread of the pandemic that necessitated a total lockdown, which caused a major decline, the corresponding period last year was characterised by a completely different atmosphere, opening a decidedly optimistic four-month period: 2021 in fact showed significant growth rates, with a peak between April and May of even 200%.
The second half of the year was also very positive, though to a lesser extent, registering sales that were noticeably higher than in the previous year, leading to an overall volume growth of 28.3% to end the year 2021.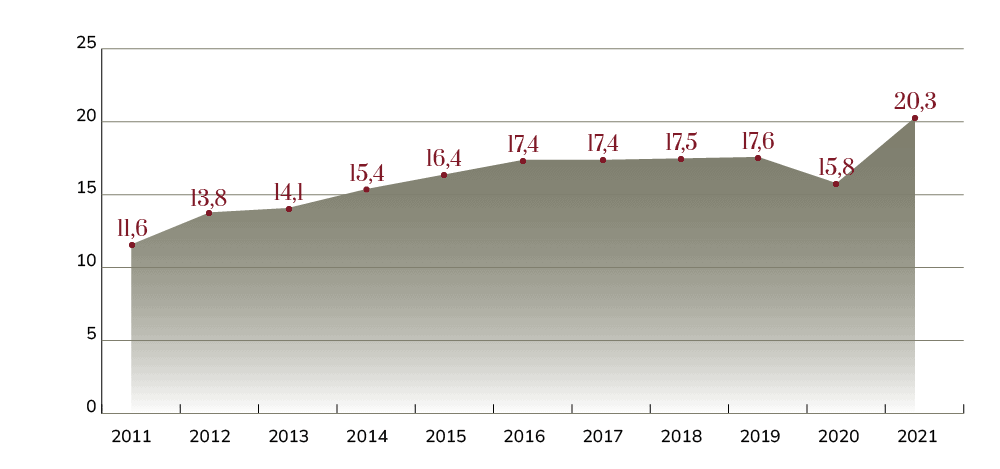 Clearly, the growth rates registered with respect to the year 2020 alone provide a partial view of the market trend, considering the peculiarities of the previous year. However, an analysis of the changes compared to the year 2019, in which there were no external factors influencing sales also shows significant growth with a positive rate of 15.5%.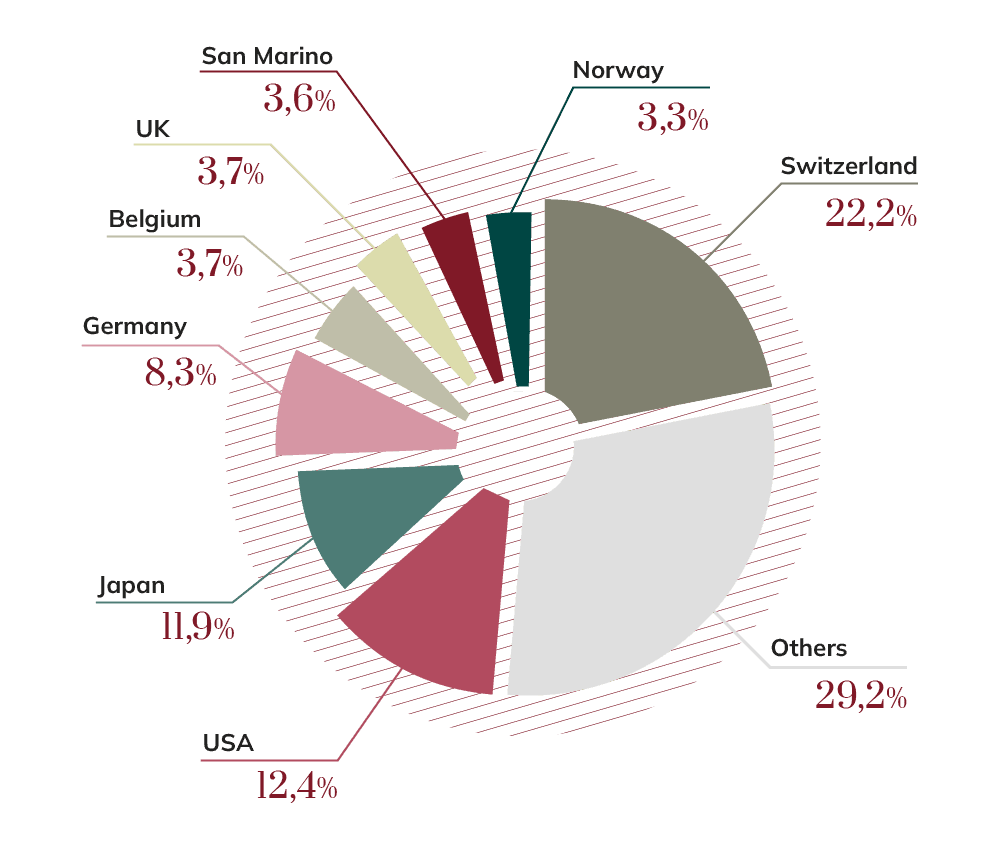 Exports, at 10.3%, at the level of individual countries, witnessed Switzerland confirming its leadership, accounting for 22.2% of total exports (+22.1% on 2020 and +28.5% on 2019). The United States follows behind, accounting for 12.4% of total exports (+71.7% on 2020 and +8.4% on 2019), Japan (11.9% of total exports), Germany (8.3% of total exports) and Belgium (5.4% of total exports).
While the situation was still delicate, last year's safeguarding and promotional activities in Italy and in the main foreign target markets continued; what Franciacorta now hopes for in 2022 is the possibility of resuming "face to face" activities with constancy, in order to be able to fully enjoy the numerous projects and new initiatives on the calendar. One of its objectives is undoubtedly the consolidation of important collaborations, such as that with Michelin, which plays a prominent role: since last year, in fact, Franciacorta has been a "destination partner" for the prestigious Guide and, for the next three years, will be acting as a backdrop for presenting Italian culinary stars. Within this collaboration, Franciacorta is also promoting projects devoted to the training and engagement of professional chefs and sommeliers, the true representatives of outstanding Italian food and wine.
In 2022, Franciacorta reconfirms its main partnerships: it continues to be the Official Sparkling Wine of renowned events such as the National Chamber of Fashion's Milanese fashion weeks, the eagerly-awaited 1000Miglia race which, travelling through marvellous landscapes, brings together competition, distinction, beauty and passion, and Versilia Gourmet which, for many years now, has always been an exclusive, refined and creative ritual event.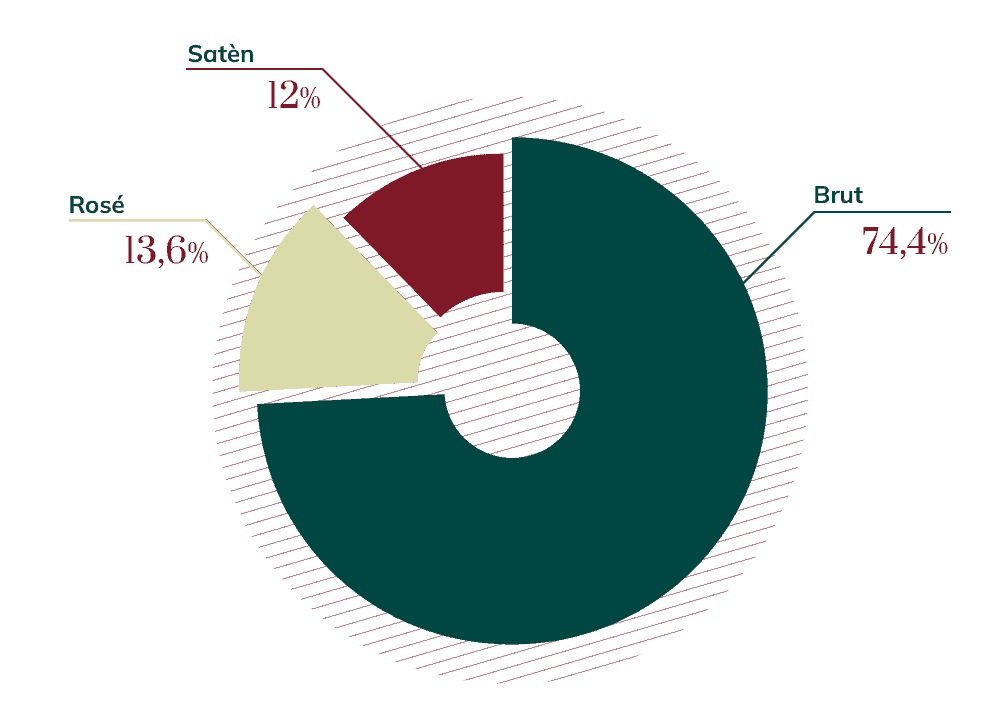 Confident of being able to relive the emotions of events in person, the Franciacorta Itinerant Festivals project is also programmed for 2022, with stops in the cities of Palermo, Milan and Rome. September will then be the month of the anxiously awaited Festival in Cantina (Winery Festival), an event that has attracted tourists for years not only from all of Italy but from abroad as well. There will also be two weekends (10-11, 17-18 of September) to welcome the numerous visitors and wine lovers to our territory's wineries, thereby ensuring an entirely safe experience.
Finally, in October don't miss the appointment with the Franciacorta masterclasses at Milan Wine Week, which once again this year will offer a rich programme of educational and entertainment events devoted to the world of wine.
Research and experimentation are also central issues, which, together with sustainability, Franciacorta has always cherished. In this field, numerous studies carried out in collaboration with universities and the experiments conducted in the territory continue to provide valid results in terms of application. The Franciacorta Consortium considers it extremely important to continue to invest its resources in this type of project and, even more so, to develop a strategy oriented towards translating the results of academic research into concrete actions and practices useful to wine-growers in their daily activities of safeguarding and caring for their vineyards and biodiversity.
All the events and initiatives are accompanied by important communications and promotional activities regarding the product and territory through the increasingly important digital channel and social networks. The influencer marketing plans and editorial columns for the various communication channels covered by Franciacorta will therefore continue. During 2021, they produced surprising results and served to showcase the territory, which is now one of the most popular destinations for out-of-town weekends dedicated to enjoying fine wine and food, not to mention relaxation.